Sentry Data Backup
is designed to backup
your precious and critical data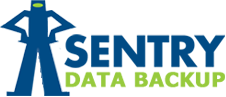 If you are not backing up your data every day and putting it someplace safe — preferably offsite — then you are leaving yourself or your company open to disaster.
Sentry Data Backup is designed to transfer your precious and critical data offsite on a daily scheduled rotation.
It is completely hands-free and requires no human intervention. By using an SDB to get your files offsite, you can be free to spend more time growing your business or just doing the things you need to do.


www.lcs.com
Contact Sentry Data Backup
Direct 513.583.0840